Now that my old blog is dead, I feel like I need to reintroduce myself to the web. A recap on what I got up to over the last 12 months seems like a good way to start.

1.     Site Sit, Llansteffan residency


In February and March I took part in the first Site Sit residency in Llansteffan. Over three weekends, five of us worked towards an exhibition in the village hall. It was my first residency but I can't imagine doing another that will have that same instant feeling of community and in such a beautiful landscape. Three weekends felt like months and it was difficult to say goodbye to the place.
The start of the first weekend was bittersweet. We attended the funeral of Osi Rhys Osmond on the first day to pay our respects to a wonderful artist in light of the challenge we had ahead of us. His thoughts and ideas on our experiences of place further informed my own. His comment in this interview with the Culture Show, on knowing your own square mile before venturing into the next, is something I have always felt strongly when working with photography – geographically and psychologically. Psychogeography, then, was a good fit for me, and helped shape my audio guide for the village 0n its past, present and imagined sounds (which you can download here via bandcamp).

2.     Ffotogallery
I spent most of 2015 as the Exhibitions Officer at Ffotogallery working on Artes Mundi 6, Corinne Silva's Garden State, Jon Tonks' Empire, Diffusion Festival and Wales in Venice. I loved every bit of it and miss everyone there very much.
3.    The National Botanical Gardens of Wales
We only spent a day here but it was one of the best days of the year. Our good friend Magali Nougarede is currently doing a residency there which she'll complete next year. Go and see it!
4.     Platform
Lots of good music out this year, as ever, but my favourite release was Holly Herndon's Platform. It was already a much-anticipated release for me and it went on to occupy my thoughts for an insane chunk of 2015. I watched her 2014 RBMA lecture too many times and I am incredibly grateful for the as-yet-unshared conversation I had with Mat Dryhurst on his use of photography during Herndon's live shows. Hopefully I'll finish the article it's due to be a part of in early 2016.
5.     Bae of Pigs
6.     Our Adventures with Marta
Marta came to stay. We went to stay with Marta. We saw Grouper and Heather Leigh in St Johns at Hackney. We went to Roath Park botanical garden. We talked about flowers a lot. We talked about record and book covers a lot. We played with letterpress at the London Centre for Book Arts (pictured). We played with lasers a lot.
7.     Lanzarote
A much-needed holiday in mid-December. We underestimated the weather. It was a surprisingly inspiring week and I'm hoping the pictures taken and ideas had there will feed into projects planned for 2016.
8.     Magnum Mix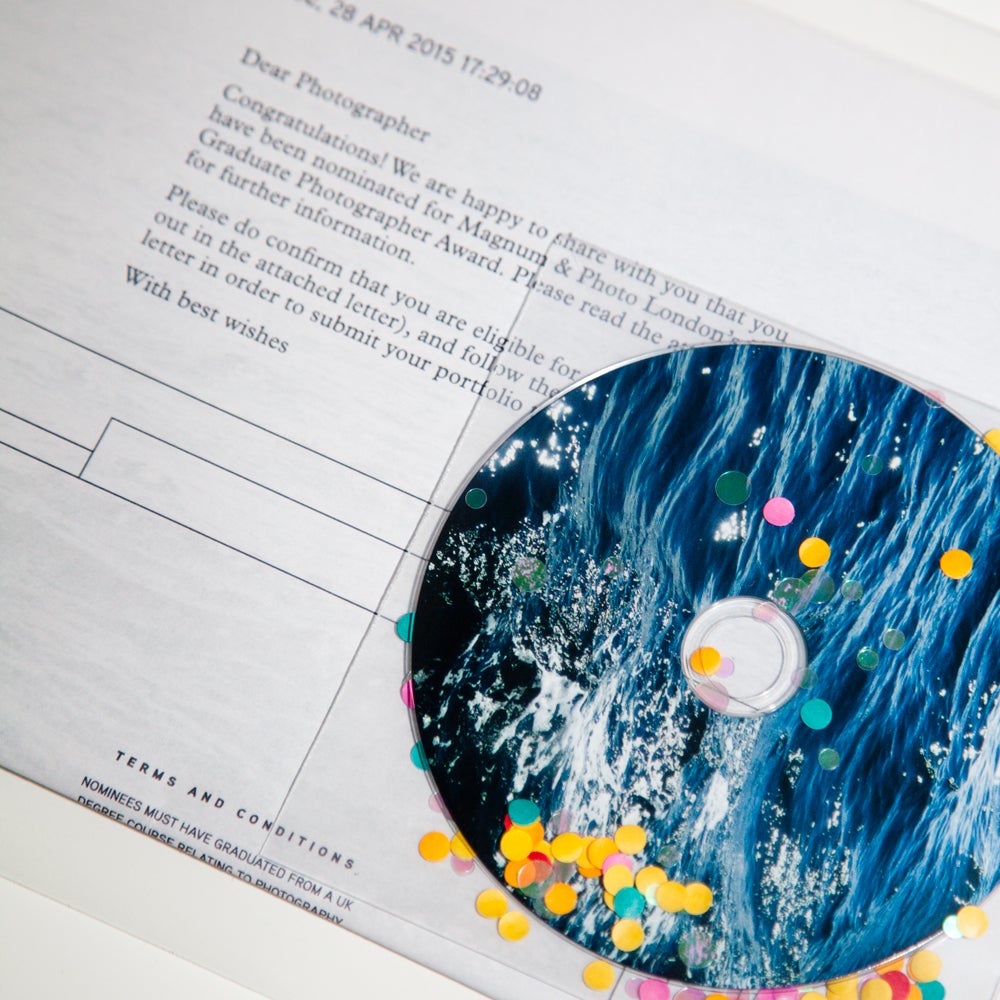 I found a strange email in my junk folder earlier this year informing me that I had been nominated for the inaugural Magnum Photos Graduate Photographer Prize. I thought it was a joke at first. Once I read the terms and conditions, written with one kind of photography in mind, I realised that it really was a joke. I sent off a preview of pictures for an upcoming project on seascapes and then made a sound collage of sounds and songs and chopped up interviews with Sontag, Berger and the Magnum roster, laying out my approach to sound and photography and my thoughts on the "Magnum tradition".
I didn't make it past the long list but I really enjoyed making my response so I turned my WeTransfer submission into 50 newspapers and CDs. The response to them was great and they were stocked in a pop-up bookshop in Cardiff for while. I've still got a load of them, mind. You can buy one here.
9.     Made to Stray
Over the last three years I've been immensely proud of the way my old course has continued to push the boundaries of what a degree show and its publication can be. Contributing to and editing the 2014 publication was a fantastic experience and, despite massive changes to the course and the university since then, the momentum kept on building for 2015. The result, Made To Stray, had the whole of Cardiff's art scene talking. I was invited the DJ at the after party in the Abacus and the vibe in there was brilliant. The hoedown had to back-to-back Omar Souleyman records was possibly the biggest buzz I've had all year.
10.     Fragile
I packed up a bag of my loudest records, got on my bike and cycled to the National Museum in Cardiff to see their ceramics exhibition, Fragile?.
11.     Jeremy Corbyn